WhatsApp on Mac or PC
Update 13/01/13: run WhatsApp on your pc/mac without a phone/VNC!
WhatsApp is a fairly new App for multiple mobile devices. Due to the App Store, Android Market, etc. it grew huge in just a few months. Especially since people started to use them as a replacement for SMS chats and because your identity is based on your mobile number.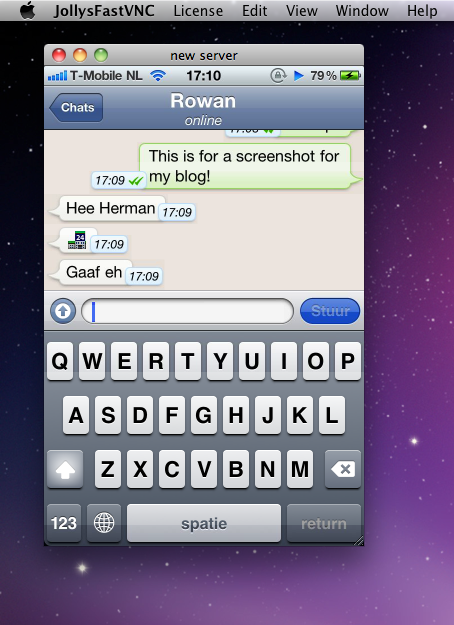 I think WhatsApp as a service has one disadvantage: it only works on mobile devices. Although it might be the reason it so popular. At the moment it's a replacement for SMS and services that offer equal features like Google Talk work on multiple devices. So the service is not thought of as some kind of replacement for SMS. The nice thing is that every one who has WhatsApp has a smartphone and therefore can also download Google Talk apps should WhatsApp become less popular.
The nice thing of a full scale qwerty keyboard is that you can type way faster and therefore communicate faster. So the other day I was having a conversation on WhatsApp and messages where being send almost faster than they could be read. In order to keep up with the chat I really needed a full size keyboard. Then I came up with the following idea: install a VNC server on my iPhone and connect to it from my mac!
So here is the manual to do so:
Jailbreak iPhone
Install Veency
Install VNC client on mac like "Chicken of VNC" or "JollysFastVNC".
Connect to your iPhone
Until somebody decides to write a app that can use WhatsApp as a server – I might get that idea in my head and end up writing it myself, so stay tuned – we'll have to use this epic work-around or continue using our phones keyboard..